TheraClear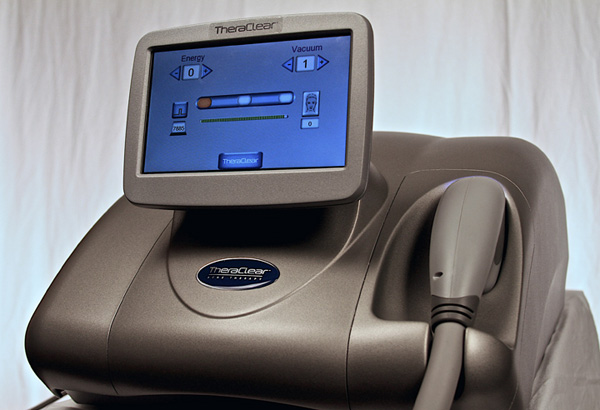 Introduction
테라클리어는 Vacuum과 빛(400-1200nm)이 동시에 조사되는 장비로, Vacuum이 피부를 물리적으로 끌어당겨 피부질환 치료등에 사용하는 장비입니다. Vacuum이 병변에 더 가까이 위치시킴으로써 Vacuum이 없을 때 보다 빛이 깊숙이 침투하게 됩니다.
Hygenic and painless Treatments
No anesthetics, numbing or cooling gels required
Safe on darker skin types
Highly Economical
Eliminates external cool sprays and anesthetics t Comfort and Enhanced Contact
Specification
Laser  type
Vacuum + Flash Lamp
Wavelength
500-1200nm
Spot size
Normal Insert - 12.7mmⅹ25.4mm
Small Insert - 10mmⅹ13.5mm
Energy level
0-9 Level
Vacuum level
1-3, S1-S3, MV(Multi Vacuum),SMV(Soft Multi Vacuum)
Pulse duration
Short Pulse, Long Pulse
Pulse delay
500ms, 750ms, 1000ms
Number of pulses
Single, Double, Triple
Weight
25Ibs
TeraClear( 펄스광선조사기)
이제품은 "의료기기"이며 "사용상의 주의사항"과 "사용방법"을 잘 읽고 사용하십시오.
광고심의필 : 심의번호 2014I10251825