Lux1540

| | | | |
| --- | --- | --- | --- |
| Tip | 15 mm | 10 mm | XD |
| Spot size(mm) | 15 | 10 | 15 x 15 |
| Pitch(mm) | 0.6 mm | 1.0 mm | 2.0 mm |
| Microbeams density(㎠) | 320 | 100 | 49( 7x7 ) |
| Depth(mm) | Max 0.7 mm | Max 1.2 mm | Max 2.0 mm |

---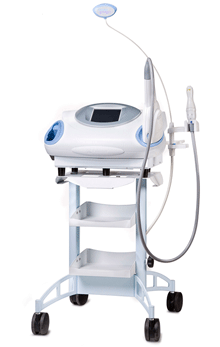 Introduction
Unique non-ablative skin resurfacing needs require specific amounts of surface coverage and depth of treatment.  Palomar's fractional resurfacing devices offer options that let you customize the treatment for the best possible result.
Through photothermolysis, the non-ablative, Lux1540™ creates micro-columns of coagulated tissue that extend through the epidermis deep into the dermis. Over a course of well-tolerated treatments with minimal side effects and little to no downtime, this novel technique produces significant improvement in a broad range of treatment.
---
XD Optic
The XD Microlens™, designed for  the Palomar 1440 nm and 1540 nm fractional laser handpieces, is a new addition to the family of optics for non-ablative skin resurfacing. 
Using compression and a unique lens design, the XD (extra deep) Lens allows for maximum non-ablative fractional treatment depth
This illustration of skin compression depicts the actions of a single micropoint when pressed upon the skin.  As the dermis is compressed, the point is brought closer to deeper targets and the interstitial water is displaced from the dermal-epidermal (D/E) junction into the surrounding spaces.
With less water to absorb, scattering of the laser light is reduced, enabling increased absorption of the light by deeper targets.  Additionally, better contact improves heat transfer from the skin to the cooled sapphire compression points, decreasing epidermal temperature and risk of injury.

Specification
| | |
| --- | --- |
| Wavelength | 1540nm |
| Medium | Er:Glass |
| Spot size | 10mm, 15mm, XD optic(15ⅹ15) |
| Repetition Rate | Up to 2Hz |
| Max Fluence | Up to 70mJ per microbeam |
| Body size | 600mm widthⅹ450mm depthⅹ300mm height |
| Body weight | 29Kg |
| Handpiece weight | 3.5Kg |
| Electrical Inputs | 220VAC, 6Amps, 60Hz |