ICON
Introduction
미국 Palomar사에서 새로 출시된ICON 은 치료목적에 따라 여러가지 핸드피스를 이용해 다양하게 치료할 수 있는 최신 플랫폼 장비로 높은 파워와 쿨링을 지원하는 장비 입니다. ICON의 가장 큰 특징인 Skintel은 환자들의 멜라닌인덱스(Melanin Index Value)를 측정하는 기구로써 개개인의 스킨타입에 맞춰 시술 파라미터 값을 제시해주는 역할을 합니다. AccuSpectrum, Photon Recycling, SmoothPulse같은 Palomar 만의 독자적인 기술력 또한 ICON의 특징입니다. ICON에 부착할 수 있는 핸드피스로는MaxG, MaxY, Non-Ablative Fractional laser인 1540XD와 1540XF가 있습니다.
적용대상(FDA승인)
MaxG - Vascular Lesion & Pigment Lesion
MaxY - Hair Reduction & Pigment Lesion
1540XD, XF - Skin Resurfacing, Wrinkle, Pore, Sugical Scar&Acne Scar, Stretch Marks
기능 및 특장점
High Peak Power
Optimized results in less treatments
Skintel
Measures melanin content to guide the treatment process
Advanced Contact Cooling
Powerful cooling system adds protection and comfort, before, during and after treatment
Enhanced User Interface
Large touch screen has an easy-to-read interface, equipped with tracking technology that stores treatment data
AccuSpectrum
Dual filters minimize unnecessary epidermal exposure for enhanced client comfort
Photon Recycling
Reduces energy loss for maximized treatment results
SmoothPulse
Proprietary light delivery system that allows for the usage of greater amounts of light energy
The Skintel™ Melanin Reader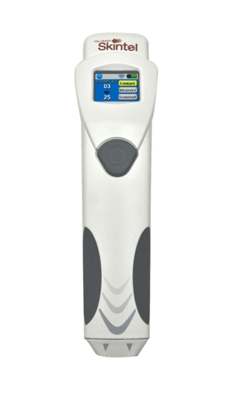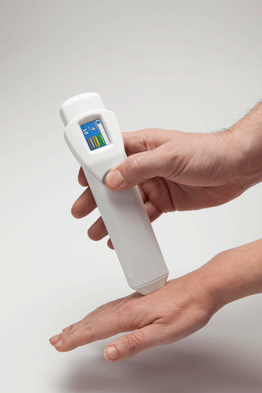 ---
Measures melanin content to guide the treatment process Featuring the Measuring melanin content to better guide the treatment process The Skintel™ Melanin Reader provides an additional element of treatment confidence by determining the average melanin density of skin, in a quantitative manner, prior to treatment. The Skintel reader aids the treatment process by providing suggested test spot settings based on then individual's Melanin Index Value.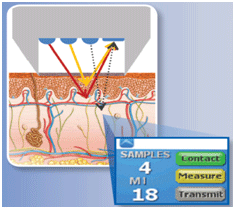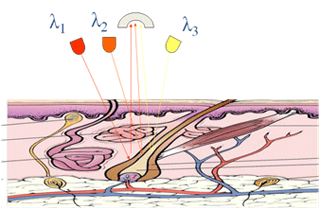 ---
Skintel_Specification
LED Light Source
Wavelengths: 640 nm, 700 nm, 910 nm
Melanin Index Range: 0-99
Measurement Time: Less than 1 second
Dimensions: 1.2" x 2" x 8.5" (3 cm x 5 cm x 21.5 cm)