CoolGlide Vantage
Introduction
The versatile CoolGlide long-pulse Nd:YAG platform fits this profile exceptionally well, providing efficacious treatments for the most sought after patient applications: permanent hair reduction and vascular therapy.
To treat all types of patients, your laser must be able to treat at therapeutic levels at all fluences and repetition rates to achieve uncompromised efficacy. The proprietary design of the CoolGlide power supply delivers this and more. GoolGlide Vantage is designed to give the clinician independent control of the fluence, pulse width and repetition rate. Independent control over these parameters.
Integrated Contact Cooling
Each configuration of the CoolGlide includes bulk, integrated cooling providing exceptional epidermal protection and patient comfort – all without the added cost of cryogen or external coolers.
East to Use
CoolGlide Vantage is simple to operate. The 1064 nm handpiece is lightweight and easy to hold. Changing spot sizes is as effortless as turning a dial – allowing you to easily treat a wide range of vessel sizes.

Absorption by Wavelength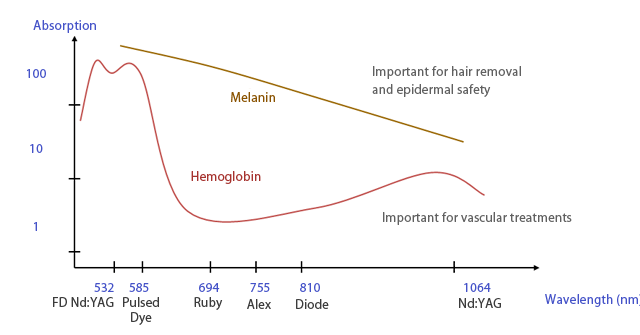 Penetration Depth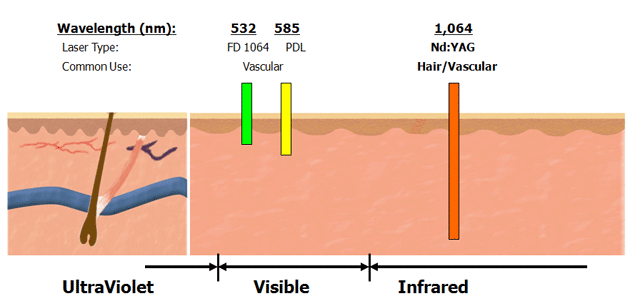 Specification
| | |
| --- | --- |
| Light Source | High Peak Power, Long Pulse ND:YAG |
| Wavelength | 1064nm |
| Fluence | Up to 300J/cm2 |
| Pulse Width | 0.1~300 msec |
| Spot Siz | Integrated 3,5,7,10mm (1064nm) |
| Repetition | SS, up to 10Hz (1064nm) |
| Epidermal Preservation/Cooling | Temperature Regulated Contact Cooling |
| Electrica | 115/V20A or 230V/20A |
| System Cooling | Internal, Self-contained |
| System Size | 12"× 19"× 30"(plus adjustable hand piece tree) |
| Weight | 135 lbs. |